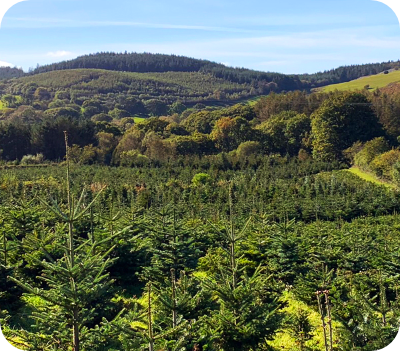 About
Cambrian Trees
Cambrian trees is a family run Christmas tree farm set in the Cambrian Mountains.Our Christmas trees were first planted in the spring of 1969, they were Norway Spruce and 3000 were put in the ground, they were harvested 8 years later in 1977.The plantation expanded in 1977, 1979 and 1982 by two farmers Mr. John Watkin and Mr David Lloyd-Jones.
Today, Cambrian trees has around 100 acres of land with up to 200,000 trees growing at any one time on full production, offering a variety of Christmas trees including Norway Spruce, Nordman Fir, Fraser Fir and a small selection of Scotch Pine all in various sizes.
Our Christmas trees are maintained regularly by our well trained staff.
How We Work
We have strict environmental policies and work hand in hand with nature and it's wildlife within our plantations. We have lovely flock of Shropshire sheep that graze amongst our trees as a natural way of grass and weed control.
We encourage wholesale buyers to come and visit our plantations and view the Christmas Trees to discuss prices and delivery arrangements and build relationships for years to come.
We also do the same for our retail customers, we open the farm on the 1st of December for you to come and pick your own trees and wreaths. Our friendly members of staff are always on hand to give you advice on what tree would best suit you and your home (see retail for more info).
We promise a reliable and professional service, and we ensure fresh cut netted trees delivered on pallets, trollies or loose anywhere in the country on the date you require.